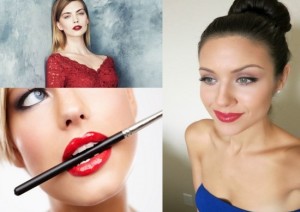 The holiday season has just begun and you have a lot of plans for the next ten days. Whether they are family get-togethers, going out with friends, or glamorous parties, there is no doubt that you want to look your best.
Knowing that this festive season can be quite a frenzied time, I've collected the top 6 articles with beauty tips and tricks that will help you look gorgeous to all these under-the-mistletoe moments.
1. Murphy's law: "If anything can go wrong, it will". We have all experienced all these last minute disasters at least once in our life. Faith Xue's article in Makeup.com is truly a lifesaver! And believe me, her solutions work! I've personally done at least half of these tricks.
It's Murphy's makeup law – no matter how much we try to plan ahead, it seems like last-minute beauty emergencies always spring up during the holiday season. Luckily, we here at MDC have experienced our fair share of makeup mishaps and have learned from our mistakes. Not one to keep secrets, today we're sharing our solutions for four of the most-common holiday beauty emergencies. You can thank us with a hot mug of spiced cider…
Read her article here "4 Last Minute Holiday Beauty Emergencies, Solved!"
2. This old article in Marie Claire has saved me a lot of time! And we are always in a hurry during this period.
Got a need for speed? Between basting a the turkey, refilling the eggnog, and making sure that no one is opening their gift earlier than they should be — who has time for hair and makeup? Here, some quick and easy hair and makeup tips to keep you looking chic from Thanksgiving through New Year's!
Here is the link to the article "10 Fast Holiday Hair and Makeup Tricks"
3. For an alternative on the second tip of the previous article, you can use Shana Astrachan's DIY dry shampoo recipe, featured in this article by Laura, in Modcloth.
We invited DIY beauty expert Shana of Fox & Doll back to share another one of her original recipes. Last time, she showed us how to make an au naturel lip exfoliator, but this time it's all about hair and achieving a refreshed look in a cinch!
Read her article here "A Quick Fix: How to Make DIY Dry Shampoo"
4. Speaking of speed, you should read Molly Triffin's time-saver article in Cosmopolitan. Did you know that you could shrink a zit with the help of an ice cube?
Have a big date or party coming up and just a couple of days to prepare for it? We have shortcuts to looking head-to-toe spectacular.
Read the whole article here "Look Amazing — In Just 48 Hours"
5. I'm pretty sure you are going to love this one! All women's constant concern, when applying makeup, is "how am I going to cover this?" Well, Michelle Villett with her article in Beautyeditor has got you covered!
(…) There is one area I actually do consider myself quite proficient at, and that is the art of camouflage. Probably you got the hint seeing as I've posted about this incessantly. (I'm not joking: I've talked about the most common foundation mistakes, why I love HD powders, my favourite foundations, whether you need to re-think how you're using concealer, and how I have a concealer wardrobe.) Skin is really, REALLY important.

And let's face it: nobody cares about your artful liquid liner application if you've got a flaming red spot stealing all the attention. Or a cold sore, or dark circles. So from me to you, here's your guide to hiding all the bad so people can focus on the good.
Here is the link to this absolute must-read "How to cover absolutely anything (zits! cold sores! dark circles!)"
6. The last article might not be 'holiday-themed' but it is an amazing trick! How many times have you dropped your makeup powder or blush? And after breaking it, you threw it to the garbage, right? Not anymore! There is a way to fix it and Sharona Fizhadze in her article, in her blog 'The Dramaterialist', tells us how.
We all have had it happen once before: you rush to get yourself ready for a night out or you're quick to grab something out of your bag, and BAM, you drop your makeup powder. What once smooth and practical is now all messed up in little pieces and you instantly think to throw it away..
Read her article here "Fix up broken makeup"
Finally yet importantly, the next tip is not in an article. However, the key factor to looking good, the best beauty tip of all time is this: Enjoy yourself! When you feel good, when you are happy it just shows! So go out there and have a great time with people you love!