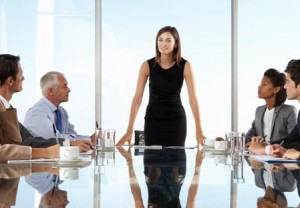 It's not such a long time ago that we wrote about a piece of research on female leadership , where we saw that people have actually started to recognise women as leaders. After our last post on Top Qualities Of Effective Leaders, I wanted to come back on the subject of female leadership. And, believe me, not without reason!
I received an email on Monday night telling me I had to read a great article published some days ago on Forbes. To be completely honest with you, even as I'm writing this, I have already read the article 4 times! And every time I see in it more people I recognise; traits of women I look up to, role models, even relatives.  Glenn Llopis, the author, has written the most comprehensive article on women's psychology and way of thinking I've read for a long time. And from my point of view, the most extraordinary thing is that it is written by a man.
"I was surrounded by strong-willed, hardworking and purpose-driven women. It is through their leadership that the traditions, values and legacy of our family have been upheld.  My grandmother, mother, wife, and sister-in-law all possess natural leadership skills and they are masters of opportunity management – seamlessly keeping us all in check while running the family household and at the same time supporting our family businesses.  They have taught me that a woman's instincts and emotional intelligence can be off the chart. They seamlessly manage crisis and change and are turnaround experts – sensing and neutralizing any signs of danger well before it invades our path. It is because of the women in our family that we are well-organized, full of love, spiritually aligned and well-balanced. We are by no means a perfect family, but we are a modern family who embraces traditions even as we adapt to changing times."
I could almost feel you nodding while you were reading that. And even for our male readers I bet it was difficult not to think of their mother, their sister, their wife. Throughout this article, you will see attributes of almost every woman you have ever known.
These attributes are what makes women great leaders. We are born with these characteristics. These traits are in our genes. It's up to us to make use of these traits and become the leaders we were meant to be.
Although there has been a huge improvement over the last years on rejecting gender stereotypes that want women not to be "leader material", we have a long road ahead of us. But we can't expect the world to see things differently, unless we teach them how to see things from another perspective. We have to show them they are wrong. We have to show them that female leadership is not just a 'trendy' phrase, nor a joke. If we want to change the world, we have to show them that women can be great leaders!
Read the article here: "The Most Undervalued Leadership Traits Of Women"
I'll close with the author's last two sentences with the hope his wish comes true: "Rarely have I read something from a man who has been inspired and influenced by the wisdom of a woman's leadership.  Hopefully this perspective helps awaken more of us to the opportunity of learning about leadership from the women in our lives, whether in the home or at work."
.