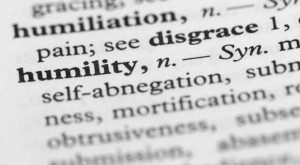 The dictionary defines humility as modesty, not being arrogant, having a feeling of insignificance, not believing that you are superior to others and being courteously respectful. But what humility has to do with leadership? Why being a humble leader is so important?

A recent study by Catalyst ("Inclusive Leadership: The View From Six Countries") shows that when employees feel more included in their work groups, they are more innovative in their jobs (identifying opportunities for new products and processes and trying out new ideas and approaches to problems) and more engaged in team citizenship behaviours (going above and beyond the "call of duty" to help other team members and meet work group objectives).
According to the study, in order to create an environment where employees feel included, managers need to follow the altruistic leadership model. The four attributes of altruistic leadership are empowerment (empower employees to learn, develop and excel), humility (such as learning from criticism, admitting mistakes, and seeking contributors), courage (such as putting personal interests aside for the general good and taking personal risks), and accountability (showing confidence to employees by holding them responsible for results).
Being a humble leader was the second most important behaviour in this study (humility was right after empowerment), although it might be a little unusual to link humility with leadership. When we think of leadership, we often think attributes like self-promotion. But, as the study shows, being and altruistic leader -thus, a humble leader- will help your employees create the sense of belonging and uniqueness; the key elements of feeling included.
How to be a humble leader?
Admit your mistakes, learn from them and share them so that others can learn too
Listen, engage in dialogues and learn from others' point of view
When uncertain, or lacking certain skills and/or knowledge, admit it and seek the right people who can contribute to the team
Erica Bell, in her article in talentzoo.com, provides some good tips on how to be a humble leader.
" If you want to be a CEO, COO, or hold any leadership position, you'll have to manage others effectively. Part of being an effective leader is remaining humble. While you may be able to request major adjustments within the company as whole or your customer call center department, you won't be successful unless you have the respect of those who are executing the projects you've planned. Humble leaders make others feel important and valued. Being humble isn't always easy after working hard to get to a leadership position. Here's what you can do to stay more grounded… "
Read the whole article here: "How to Be a Humble Leader"