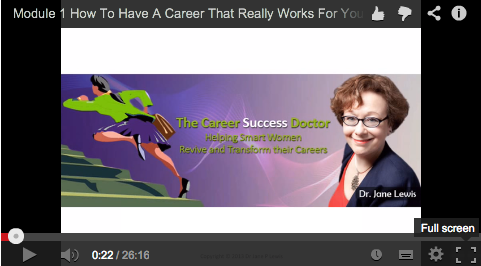 I have created an online, home study programme called 'How To Have A Career That Really Works For You'.
Why Should I Be Interested?
'How To Have A Career That Really Works For You' is designed to teach you how to achieve career success and happiness, how to have the career success and recognition you deserve, and how to be true to yourself and still be successful.
This is for you if you:
are feeling stuck in your career – it will help you unstick your thinking
don't have a clear sense of where you want to go with your career – it's designed so you create that clarity
know what you want but aren't sure what the next steps might be – you'll discover what actions you need to take
have lost confidence in your own abilities so struggle to get promotion or the 'right' job – it's set up to get you to focus on your strengths, talents and abilities, and explore in depth just how much you have to offer
find yourself asking 'how can I have career success and still be myself?' – you'll learn how to find jobs that match your values so you can totally be yourself at work
prefer to learn using video or audio – it's video based with audio downloads
aren't yet sure if you want career coaching – this course will give you a solid basis for making that decision.
What's Included In 'How To Have A Career That Really Works For You?'
The programme includes the following:
12 Modules, each with a video and an audio (so you can listen when you're on the move).
Over 20 worksheets, exercises, templates and case studies
A bonus module introducing you to different types of meditation, with other material coming soon.
Live Support almost immediately from me and your peers via the private Facebook Group (exclusive to my clients).
There are 12 actionable modules, each with an downloadable audio version. There are checklists, templates, exercises and more in pdf form.
Here what's in each module.
Module 1 – Introduction
Module 2 – Goal Setting
Module 3 – What Do You Love, What Do You Hate
Module 4 – Consider Your Talents
Module 5 – Reasons And Excuses
Module 6 –  The Art Of Meditation
Module 7 – Dealing With Your Blocks And Obstacles
Module 8 – What Do You Want To Be When You Grow Up?
Module 9 – What's Important To You About Your Career?
Module 10 – Does My Career Satisfy My Values?
Module 11 – I Dreamed A Dream
Module 12 – Pulling It All Together
Bonus Module
And it all comes with a 30 day guarantee.
How Can I Get Access?
To get immediate access to the programme, just click on this link.
If you have any questions, please contact us.